Have you ever thought that it's impossible to stop using drugs or alcohol? Do you find that all doors are closing, and you have nowhere or no one to turn to? Thousands of individuals have had these thoughts; however, they have taken the first step to getting clean and sober. Right at this moment, they are beginning their journey to long-term recovery and these thoughts have slowly started to fade away.
 This particular month, Borinquen's STOPP-E substance abuse program would like to put the spotlight and congratulate three clients who are beginning their journey, Keith Phaiah, James Baptiste, and Stephany Severance. On Friday, February 19, 2016, at 1:00 pm, with big smiles on their faces, Keith and James were handed their residential treatment completion certificates. Also, on February 16, 2016, Stephany received hers.
It is with high hopes that they have decided to change their lives. It won't be an easy road, but it's a road they've chosen to stay on. These are the Alcoholics Anonymous Promises of changes they will go through while on their journey through recovery.
 "If we are painstaking about this phase of our development, we will be amazed before we are halfway through.We are going to know a new freedom and a new happiness.We will not regret the past nor wish to shut the door on it. We will comprehend the word serenity, and we will know peace.No matter how far down the scale we have gone. We will see how our experience can benefit others.That feeling of uselessness and self-pity will disappear. We will lose interest in selfish things and gain interest in our fellows.Self-seeking will slip away.Our whole attitude and outlook upon life will change.Fear of people and of economic insecurity will leave us.We will intuitively know how to handle situations which used to baffle us.We will suddenly realize that God is doing for us what we could not do for ourselves.Are these extravagant promises? We think not. They are being fulfilled among us -sometimes quickly, sometimes slowly. They will always materialize if we work for them." ~Alcoholics Anonymous p83-84~
 It doesn't matter who you are, what age you are or how much money you have addiction can affect anyone. At times, it may seem that there is not hope however these clients along with many others demonstrate that it IS possible. If you are struggling with drug or alcohol addiction and would like someone to help you get on the recovery journey, please contact Borinquen's STOPP-E program. One of our counselors can help you. Contact Donald Crews at 786-768-4518 or Carmen Pineiro at 305-576-1599 ext. 3117.
This article is on page 2 of The Voice of The Carribbean. Clink on link below.
https://gallery.mailchimp.com/8c892a96e3f2730096021be41/files/TVoC_4_01_2016_MH_sa_fin_sm.pdf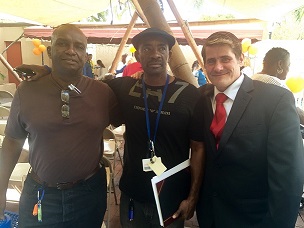 James Baptiste (left), Don Crews (middle), Keith Phaiah (right)